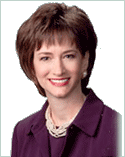 Certified Consultant:
Deborah Wheeler
Deborah Wheeler is the founder and president of Transformations by Design, which focuses on the human dynamics of communication and image in the workplace. The goal is to empower individuals to achieve higher levels of personal and professional success.

Deborah has an extensive background in the corporate education field, holding positions as Director of Development and Certification for a major consulting firm, Program Manager for an employee re-skilling project, as well as developing an education department for one of the most powerful state agencies in Texas.
Deborah's training includes certification by Empowerment Enterprises founder Sherry Maysonave, a degree in Fashion Merchandising, and has multiple credentials in leadership development, presentation and communication skills, and personal development.
Deborah conducts corporate communication and professional development workshops and provides personal image and communication services