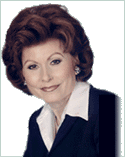 Certified Consultant:
Donna J. Savage
Donna Savage has an extensive background in sales, marketing and training. She has successfully owned and developed her own business. Previously, Donna held key corporate positions of General Manager, Director of Marketing, Sales Manager, and Account Executive.

Savage has trained personnel in the art of verbal and non-verbal communication, professional dress, etiquette, international protocol, and sales presentation skills for many companies, as well as for her privately owned business.
Donna Savage is a certified "Corporate Etiquette and International Protocol Consultant" from the highly respected Protocol School of Washington. Donna's training was conducted by the school's founder, Dorothea Johnson. Dorothea Johnson is the author of multiple books and is one of the most widely quoted etiquette and protocol experts in the U.S.
Donna has a degree in Interior Design with additional years of study in art and color. Donna was trained in public speaking by the widely acclaimed Juanell Teague, founder of People Plus, Inc. Teague has trained professional speakers nationally and won the admiration and respect of world-renown leaders in the field of public speaking.
Donna received her Communication & Image Certification from Sherry Maysonave, the founder and president of Empowerment Enterprises. Maysonave is internationally known in the field of communication and image, a gifted motivational speaker, and the author of Casual Power. Maysonave is regarded by many executives and corporations as the authority on casual dress in the workplace.
Leveraging her training and success in business, Donna provides custom communication and image consulting services, seminars, and workshops to individuals and corporations.